The Automatic Intelligent Storage Technology of JD "Asia No.1
Views:38 Author:Site Editor Publish Time: 2020-07-06 Origin:Site
One Minute:
The intelligent devices can take 320000 photos of goods, the sorting robot can run 196200m, the picking robot can complete grabbing the products 2000 pcs, and make the packages of 5120 pcs...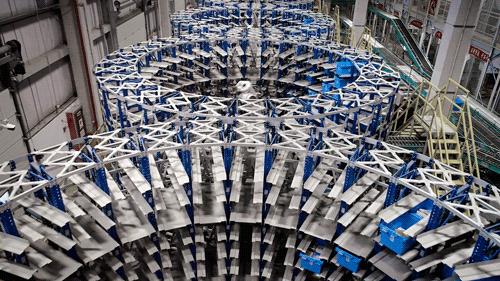 In the eyes of ordinary people, one minute is a fleeting moment, but the cool "black technology" can accomplish many "feats" in one minute time.
In order to meet the year's largest e-commerce shopping Carnival 618, JD logistics launched the largest intelligent logistics warehouse group in Asia's e-commerce logistics field. In Beijing, Wuhan, Shanghai, Shenyang, and other places, the "Asia No.1 " opened the veil of mystery one by one.
When you place an order on the Internet, you may not have thought that robots are all used to pick up goods for you. Some mature robots, automatic packaging machine order processing speed is more than 10 times of the traditional warehouse.
The image of "little red man" who is tirelessly running to pick up goods is cute, but his ability is not small. It runs 3 meters per second, the fastest in the world. The intelligent control system can calculate more than 300 robots in 0.2 seconds 68 billion operational paths and make the best choice.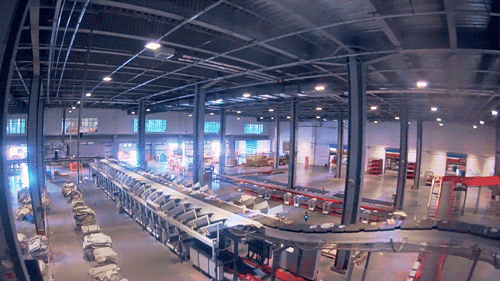 The "Ground Wolf" AGV robot can automatically carry the whole set of shelves and deliver the goods directly to the operator. During the driving process, the robot can automatically plan the route, line up, and avoid obstacles.
The shuttle equipment of Beijing "Asia No.1" is 19 floors high, and the shuttle car stores and picks goods through the roadway. Its storage density is more than 3 times of the conventional shelf, and the efficiency of picking goods by hand is increased by 6-8 times. The total length of the cross belt sorter system is 350 meters, which is suitable for the parcel sorting of small and medium-sized pieces. In combination with the full-automatic bag supply form, the efficiency of the traditional manual sorting mode is increased by more than 10 times.
How can these complex "black technologies" command their orderly and efficient operation? The answer is intelligent brain!
Behind every order of consumers, there are hundreds of data calculations, and the complexity of business is shocking. In just five years, the "Asia No.1" system has expanded from the only one in Shanghai to 23 cities such as Guangzhou and Wuhan, solving the problem of warehouse explosion in the peak period of e-commerce logistics, with operating efficiency more than three times that of traditional warehouses.