AS/RS (automated storage and retrieval systems) refers to a variety of computer-controlled methods for automatically placing and retrieving load from specific storage locations. An AS/RS environment would encompass many of the following technologies: Horizontal Carousels, Vertical Carousels, Vertical Lift Modules (VLM), and traditional Crane-in-Aisle Storage & Retrieval systems that utilize storage retrieval (SR) crane.
Make full use of space for the automated warehouse is an important part of storage. Storage of goods by using a multi-level warehouse system, height can reach 30 meters. According to the needs of different types, Storage elevated can set high (more than 12 meters), middle (5-12 meters), and low (5 meters below) which compared with the library can save nearly 70 percent of the area.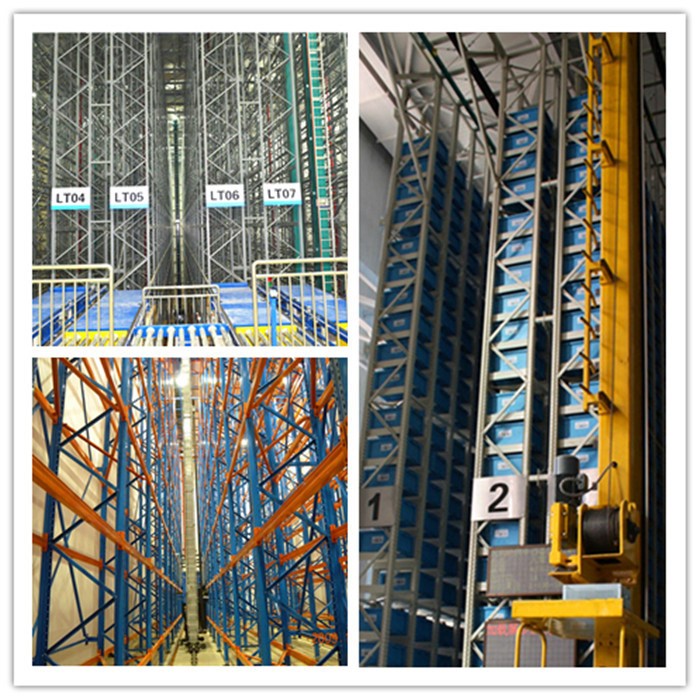 The automatic warehouse storage system
1. Racking
Structural feature: AS/RS storage system is usually equipped with pallet racking and drive-in racking, both of which are composite structures. Steel panels and wooden panels are available for loading with good capacity. Conveyors will do the loading and unloading job under the instruction from the central computer. AS/RS racking system is mainly used in the food, tobacco, electronic, mechanical, and armament industry.


2. Stacker
Structural feature: Double upright structure, steady and reliable, vector frequency conversion drive and encoder position control, mechanical and electronic safety devices to ensure the safe use of the system. All the way tracing technology by information transferring; Electric components are imported from abroad; Touching screen interface for easy operation; Making manual, semiautomatic, automatic, and linkage control come true; Used in many situations by combining with other logistics equipment.


3. Conveying system
Structural feature: Conveying system is usually equipped in the front or back of a warehouse for conveying goods here and there, bridging the procedures done by forklifts and stackers by using a rolling conveyor or chain conveyor and combining with lifts, rotating devices, and other equipment.
4. Controlling system
Structural feature: Communicating with WMS and ECS through OPC agreement, PROFIBUS bus network, set up by Siemens S7-300 controller can operate all conveyors offline, doing conveying of goods automatically. Please refer to the attached drawing for details of the conveying system.
5. WMS System
The hardware of WMS System: Star network structure, network sever, RF server, computers for management and monitor, RF base station, and RF terminal for in/out warehouse of goods.
Software of WMS System:
Operating system: WINDOW 2000X SEVER
Data-base: MS SQL SEVER 2000X
Warehouse management software: WMS
Equipment controlling software: ECS
Bar code management software: RFS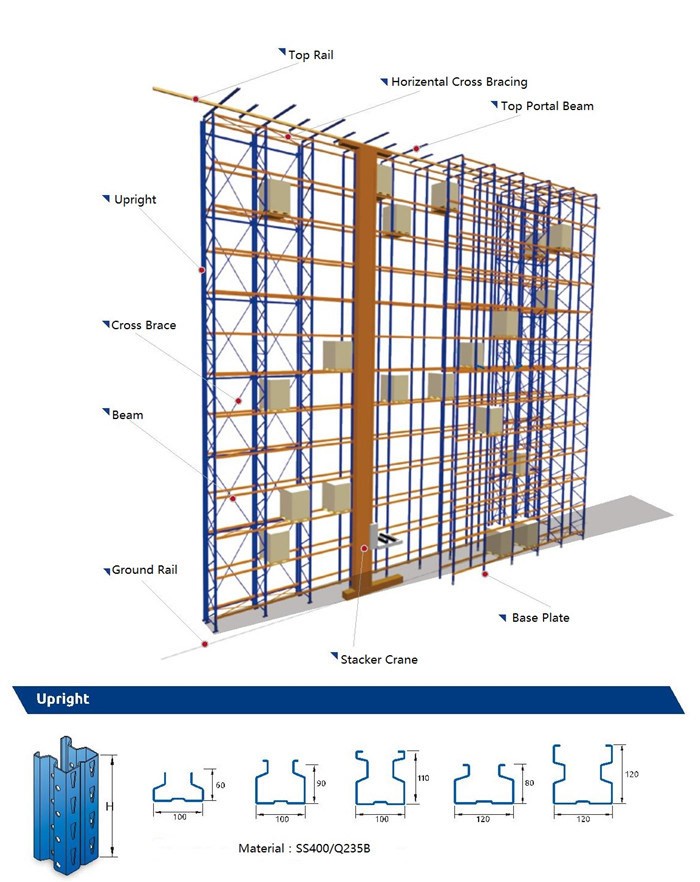 6. Other related equipment
Other related equipment includes switching cart, rail cart, O/R table, automatic guided vehicle, auto-picking system, electronic label, pallet lift, and so on.
Model

Loading Capacity (kg)

Height

Walking Speed

Remark

WDL-0.1T

100

5-30m

160m/min

Customized based on client' s requirements

WDL-0.5T

500

160m/min

WDL-1T

1000

160m/min

WDL-1.5T

1500




WDL-2T

2000

120m/min

WDL-3T

3000

100m/min
Stacker Crane of AS/RS Storage System
ASRS racking system is quite similar to the VNA rack, but it comes with a higher level of automation. The stacker crane picks and drops from the sides, it operates with less aisle width than VNA rack, the crane with its own CPU direct communication with the control center. It can work together with AGV and conveyors to handle all stores in & out through the WMS. Running and manpower cost is surprisingly low. The system provides high efficiency and cost-effective handing solution therefore it become widely accepted by all types of industries.
1. Product Specifications
Automated pallet racking system operated by cranes requires special arrangements for tolerances in manufacturing and assembly. Perfect positioning and leveling are vital for such installations. The cranes are running on a floor-mounted rail and stabilized at the top of the mast by a top guide rail. The pallets can be placed "single deep", "double-deep" or "multi-deep". It is a safe, fast, and very convenient system with 100% accessibility. The crane can go up to more than 30m. The exact height and length can determine by capacity.
2. ASRS High Rise Racking Structure:
The beam deflection depends on the applied racking class:
(Class 100): L/300 or max. 10mm
(Class 200): L/200 or max. 15mm
• The racking is braced in horizontal and vertical directions.
• The frames are top-tied by a portal beam.
• At both ends run-outs are provided.
• The footplates are fine adjusted and supported by non-shrinkage grouting.
• Safety fencing with interlock-doors and back cladding ensure safe working conditions.
• At the P&D-locations mezzanine constructions are often needed to support the conveyors.
• Visitor's platforms.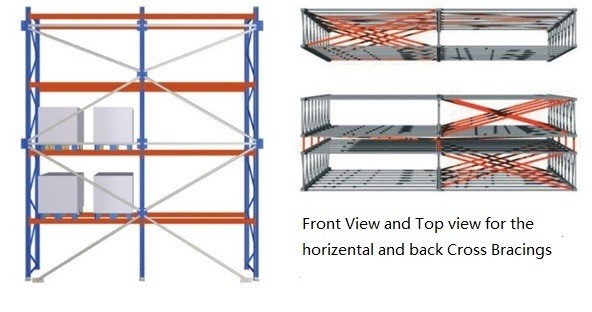 3. Mini-Load
ASRS storage systems can be categorized as Unit load and Mini load automatic warehouse based on the difference of packing units such as pallets or bins. Mini-load system has both single-store and multi-store solutions.
Production Description:
The stacker-crane is an "electromechanical system" which made of a lifting device, the elevator, and a handling device with the telescopic forks.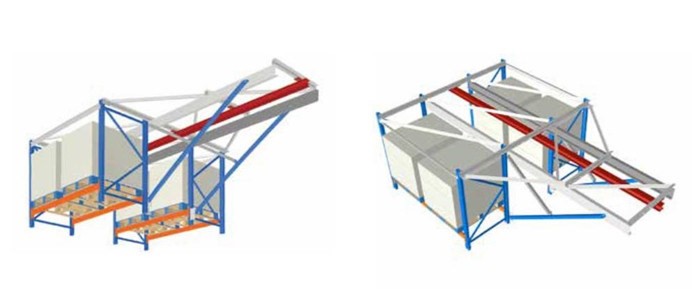 4. Feature
Stacker-cranes are designed for automated storage and retrieval of unit loads, in high-bay warehouses.

They travel in aisles equipped with guide rails, electrical supply, data transmission, and control systems.

To ensure the storage and retrieval functions, the stacker-crane carries out three types of movement: long-travel, lifting, and picking.
5. Stacker Crane Parameter
Stacker Crane Parameter

Type

Single Columns; Double Columns

Picking System via Radio Shuttle

/roller conveyor

optional

Maximum Height

40m

Telescopic Fork

Single deep; double deep

Rated Load

200-2000kg

Max. Drive Speed

180m/min

Max. Drive Acceleration

0.5m/s2

Max. Lifting Speed

60m/min

Max. Lifting Acceleration

0.5m/s2

Max. Fork Speed

45m/min

Max For Acceleration

0.5m/s2

Optional Shuttle Car

Yes

Guide Rail

30kg steel rail; 38kg steel rail

Motor

Simens

Power Supply Mode

HxPnR

Operation

PLC manual; semi-automated; Automated

Working Temperature Range

From -30ºC to +40ºC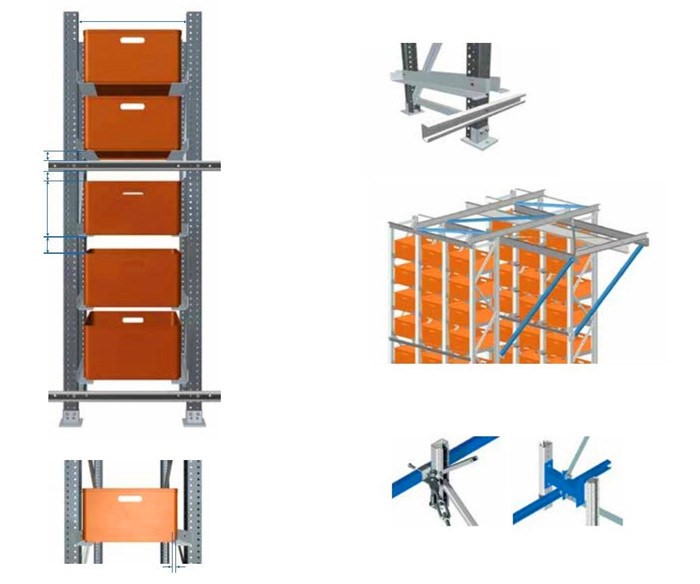 We are the top 10 professional automated storage and retrieval system companies in China since 1997, supplying high-quality ASRS storage system and automated warehouse picking system at competitive prices. We would like to be your reliable supplier and trusted friends. If you have any questions about the ASRS automated storage retrieval system, please contact us.