Steel storage cages also called warehouse cages and butterfly cages, are a very important type of logistics container in storage and transportation. It has the advantages of fixed storage capacity, neat stacking, clear storage, and convenient inventory counting. It also improves the effective utilization of storage space. The metal pallet cage can be folded freely and can be folded and stored when not in use, saving warehouse space. In addition, the product is durable, convenient to transport, and reusable, which can effectively reduce manpower consumption and packaging costs for storage companies. This product can be used not only in factory production workshops, but also in supermarkets as display promotions and storage, and can be used outdoors.
The improved storage cages can be placed on shelves, assembly lines, or stacked. Storage cage on wheels can be easily and quickly turned around in the workshop, and storage cages with PVC plates or iron plates can prevent small parts from missing.
There are three commonly used storage cages: one is for storage cage on wheels for turnover, the other is for storage cages with feet that can be stacked and racked, and the third is for storage cages with wheels and feet that can be used for both purposes.
The commonly used standard specifications of storage cages are 1000*800*850, and other specifications can be customized.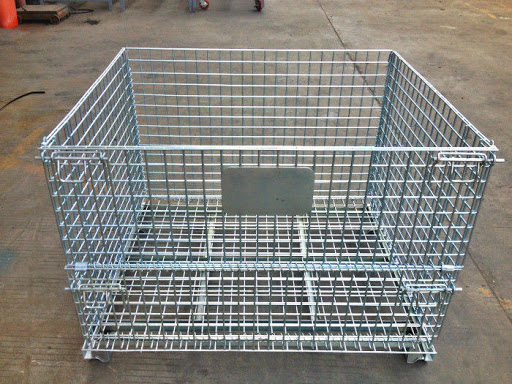 Production process of metal storage cage
Materials
The main raw material of the metal storage cage is strong steel wire drawn from high-speed wire, the general wire diameter is 4.8mm, 5mm, 6mm, 6.4mm. The mesh spacing of the mesh welding is generally 50×100, 100×100, 50×50, 50x25, 25x25. The bottom of the wire storage cages is welded with U-shaped channel steel. The U-shaped channel steel is rolled by a cold-rolled strip mill, and the bottom four legs are formed by stamping. Generally, the formed sheet is made of two stamping parts, and then the two stamping parts are welded together. The height of the feet of the metal pallet cage is generally 100, and there is also 120mm height.
Craftsmanship
The main components of the wire mesh storage cages are divided into mesh manufacturing and chassis manufacturing. The mesh is cut into various lengths, and the mesh is touched by a welding machine to make a semi-finished mesh. Most of the meshes are galvanized but also sprayed. The rust-proof galvanizing is better than spray. The wire diameter is an important parameter of the load. The chassis is processed by a bending machine from raw material plates. Plates of 1.8 and 2.5 are commonly used, then cut and manually welded into channel steel. Chassis layout is an important parameter of the load. There are two types of bottom mesh and the bottom channel steel welding. One is manual welding, which cannot guarantee that each contact point is welded. The other is the full welding technique commonly used by Shanghai companies. Each contact point between the channel steel and the mesh is passed through the machine welder, which has a stronger bearing capacity. Finally, the mesh and the chassis are assembled through the spring and the rebate.
Main classification of pallet cages for sale
The design of the folding steel storage cage is to provide convenience for access at any time. When stacking storage, you can open the small door to deposit or take out items at any time, avoiding the trouble of turning over the warehouse. Moreover, it is stored after folding, which greatly saves space.
The non-foldable pallet storage cage has a high load-bearing capacity due to special reinforcement treatment and generally can stack more layers.
Towing the storage cage is to install traction devices on the left and right positions of the storage cage. In general, casters are added, and the storage cage is connected back and forth, which can easily circulate freely in the smooth ground.
The metal storage cage on wheels is equipped with wheels. Generally, it has two universal wheels and two brake wheels, which are flexible and light in operation. And storage cage on wheels is mostly suitable for production workshops.
Heavy-duty storage cages are special storage cages developed from storage cages according to customer needs and are welded with angle steel and rectangular tubes. Compared with ordinary storage cages, it adopts spray treatment, which has the characteristics of large bearing capacity and firm structure.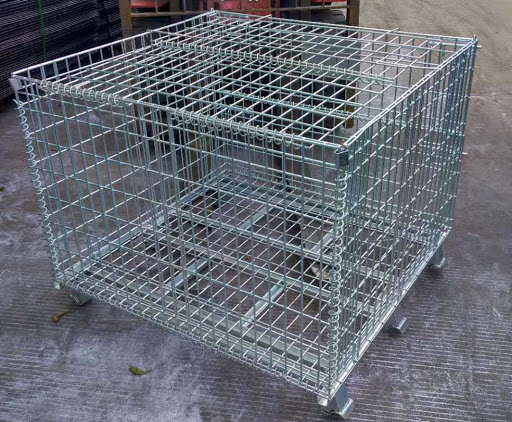 Main feature of steel storage cages
1. The industrial storage cage is made of high-quality steel by cold rolling, hardening, and welding, with high strength and large loading capacity.
2. The specifications are uniform, the capacity is fixed, the stored goods are clear at a glance, and the inventory is easy to check.
3. The surface is galvanized, beautiful, anti-oxidation, and long service life.
4. Adopting international standards, steel storage cages can be used in conjunction with containers to effectively improve space utilization.
5. It can be stacked four layers high to realize three-dimensional storage.
6. Surface environmental protection treatment, hygiene and immunity, turnover, storage, and recycling do not pollute the environment.
7. Cooperate with forklifts, ground cattle, elevators, cranes, and other equipment to perform efficient operations.
8. Folding structure, low recycling cost. Steel pallet cages are an alternative to wooden packaging boxes.
9. Wheels can be installed at the bottom, which makes turnover within the factory extremely convenient.
Application of metal pallet cage
Storage cages for sale is a kind of storage container widely used in manufacturing enterprises and large warehouse supermarkets. It is widely used in the temporary storage, transportation, sorting and storage of raw materials, semi-finished products, and finished products. The steel storage cage is also a special packaging form, which has a similar function to the pallet, but its steel material, net-like, three-dimensional structure, and other characteristics determine that the storage cage can be used as a three-dimensional loading and unloading, storage and transportation, and transportation, as well as crop flow. The steel cages for storage can also be used as a sales tool. The function of the steel pallet cages has penetrated into the fields of production, circulation, and consumption, and has gone through the links of temporary storage, packaging, handling, storage, and transportation, throughout the entire logistics process. Storage cages can be widely used in various industries: die-casting parts, forging parts, auto parts, motorcycle parts, metal stamping parts, engineering machinery parts, metal products, pipe fittings, gears, construction bathroom parts, lighting, furniture, toys, postal logistics, Pharmaceutical logistics, supermarkets, catering, food, agricultural and sideline products, etc.